JOB OPPORTUNITIES
---
Synergetica contributes towards the creation of job and work opportunities by training people for a specific occupation in counselling. Many young people struggle to get employment and counselling provides a way to become self-employed. The short courses that we offer are endorsed by the professional bodies as being aligned to scope of practice and specific designations.
The area of community health care provides ample opportunities for Wellness practitioners to gain access to the job market. The CCSA, NHA, ASCHP have more than 2000 members who work in private practices, clinics, police stations, churches, schools, wellness centres and NGO's. They earn a living by consulting clients over a wide spectrum of health care and counselling.
Do you like to work with people?
Are you caring and compassionate, then this occupation opportunity is ideal for you.
The training programme is suited for:
Young people looking for an occupation in the services industry.
People who strive to make a career change to a more fulfilling occupation.
People who are called to do counselling and health care.
Retired people who wish, not to be idled, but to spend their time serving others and at the same time to earn and extra income.
Skills based
To the point
Easy to complete, and
Aligned to professional work.
Liedani cc t/a Synergetica campus serves as a tutor centre to:
Offer short courses in a wide range of wellness related modalities
Provide tutoring to candidates enrolled for counselling and wellness based qualifications
Provide CPD training to members of professional bodies.
The wellness context provides a wholistic space for the practice of a variety of complementary modalities such as counselling, body therapies, lifestyle herbal and nutritional support, self-care coaching, energy remedies and bio-resonance screening and movement therapies. The wellness paradigm is promoted by the World Health Organization who defines health as a positive state of mental, emotional, social and physical wellbeing. This is a comprehensive approach based on interdisciplinary training and natural medicine. Synergetica provides a broad spectrum of short skills courses and personal development aligned to the wellness philosophy. The aim is job creation for counsellors and wellness coaches who are trained for registration at the applicable professional bodies.
The Synergetica academic panel comprises experienced counsellors with a wide range of academic qualifications. Tutors are also SETA registered assessors and moderators. Tutors participate also in research initiatives through the Natural Wellness Research Foundation (NWRF).
Synergetica Campus is a tutoring partner, inter alia, for the following professional associations:
CCSA
the Council for Counsellors in South Africa is one of the largest associations for the informal sector of counsellors in South Africa. It provides a home to many candidates with qualification in study fields such as psychology, counselling, pastoral counselling, traumatology and sociology.
NHA – The Natural Healers Association accommodates practitioners who work in the field of folk (traditional/ethno medicine, traditional herbalism and wellness related modalities as well as energy remedies and similar modalities).
The ASCHP – The Association for Supportive Counsellors and Holistic Practitioners is a professional body for counsellors registered with the South African Qualifications Authority (SAQA ID 984) with designations listed on the National Qualifications Framework (NQF Act 67 of 2008). It provides for wellness orientated counsellors who work as para-professionals on primary health care level.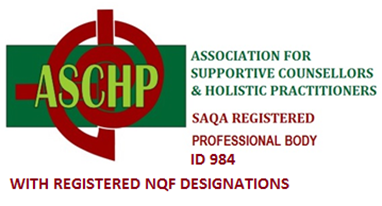 FORMAL TRAINING PROGRAMMES
---
Higher certificate in management with specialization in wellness (Enrolment through DaVinci Institute).
Next cohort to start in February 2019. Consult the office for more information.
38 credit Skills Training in Counselling through ABA Health. Consult the office for more information.
LIST OF SHORT COURSES
---
The following short courses are available. Please consult the applicable prospectuses for more information (available from the Synergetica office). The courses are offered as distance training and candidates are required to complete prescribed assignments. Assistance to complete practical work and gain experience can also be facilitated.
Contact classes:
Are also available at the Synergetica Campus in Pretoria from time to time. Please consult the time table for class dates available from the Synergetica office.
COUNSELLING SHORT COURSES
---
A wide range of short courses are available.
Introduction to counselling.
Master counselling skills by learning more about communication, helping skills, principles of counselling, the traits of a good counsellor, counselling approaches such as NLP, narrative therapy, Logotherapy and traumatology.
Professional ethics.
A counsellor is required to work with an ethical code and be able to demonstrate knowledge and understanding of ethical and legal aspects related to counselling.
Individual rights.
No counsellor can work without a thorough knowledge of the rights of the client and the professional obligations of the counsellor.
Group counselling
Provides an introduction to group dynamics and ways to effectively engage with groups such as the elderly, school leavers, people with marital problems, divorced people, victims of crime, drug users, etc.
Health and wellness
Short course provides an overview of ways to support people in sickness and preventative health care based on life style.
Screening.
This is a powerful tool to enable the counsellor to compile a health profile of the client in order to enhance wellbeing.
Stress management.
Help clients manage stress and cope in a challenging environment such as work or school.
HIV/AIDS
This short course will enable the counsellor to provide pre and post HIV/AIDS counselling.
Neuro Linguistic Programming
NLP is a commonsense system of everyday psychology for everyone – it can help you break free from negative thoughts by monitoring and adapting of your thinking.
Narrative Therapy
Narrative therapy is a user-friendly counselling technique, based on the principle of re-authoring or re-storying your personal experience by discovering an alternative story through unique outcomes.
Logo Therapy
Healing through meaning: Helping people discover meaning and find purpose to enrich life.
Contact classes:
Please note that Synergetica also established tutor centres in some areas where groups of learners meet weekly to work through the content of the counselling material under the guidance of a qualified and experienced mentor. Please consult the office for more details. Learners who are eager to become part of a study group may also assist in the recruitment of a number of learners in his/her geographical area and apply to become an informal study group. PowerPoint visual support material is available to help learners work through the content on a weekly basis (for instance once a week).
RPL:
Learners who compile their portfolios of evidence (a file with the assignments) can also apply to be considered for RPL. Recognition of Prior Learning is a process whereby a learner may gain credits towards a formal qualification based on informal learning and work experience. Please consult the Synergetica office for more information on RPL.
WELLNESS SHORT COURSES
---
A wide range of short courses are available such as :
Herbal Health Care
where you will learn about the health benefits, active compounds, and uses of herbal remedies. A good background for counsellors who want to combine a small health shop with a counselling practice.
Wellness coaching
where you will learn how to apply wellness theory and practice in support of healing and health care.
Iridology
a screening tool based on an assessment of the eye to compile a health profile.
Lifestyle health care support
how to use nutritional supplements and exercise in the restoration of mental and physical health.
HERBALISM AND ETHNOMEDICINE SHORT COURSES
---
Ideal courses for counsellors and wellness practitioners, health coaches and anyone interested in the clinical application of herbalism and lifestyle nutritional support in healing and health. Many counsellors benefit professionally from combining a small health shop with their counselling practice. Some wellness practitioners make use of modalities such as herbalism, nutrition, counselling and energy medicine. These short courses are ideal for training practitioners over a wider spectrum of modalities.
Clinical herbalism
Medicinal plants have been in use for thousands of years. Some act as potent medicines and others as tonics to strengthen the human body and sustain health. Scientific research confirms the anecdotal use of herbal remedies and in this short course you will learn which combinations to use in support of various conditions ranging from high blood pressure to mild depression. Herbs are effective, affordable, available and safe to use.
Natural medicine
The context of herbalism is that of natural medicine which means less intervention in working with the processes of the human body to improve health. The principle of natural medicine is that nature provides a cure.
Health care protocols
Many common ailments are discussed in this short course with reference to a spectrum of natural health care modalities such as herbs, aromatherapy, colour therapy, etc.
Understanding the human body
In this short course we focus on the normal and the diseased human body from the perspective of holism.
Health care counselling
Bodymind medicine means that mental patterns, emotional moods, social support and purpose and meaning also play a role in health care. Learn how to use counselling techniques in order to foster healing.
Screening
Wellness practitioners do not diagnose, they screen in order to assess the complete health status of the client. Questionnaires and bio resonance or iridology are useful techniques in compiling a health profile.
Iridology
Naturopaths have been making use of the assessments of the iris of the human eye to predict weaknesses and strengths of the human body. This short course will introduce you to the principles of iridology by making use of visual material.
Primary health care
This short course provides an overview of common diseases and injuries, communicable and endemic diseases.
Herbal pharmacology
Herbs contain secondary metabolites such as polyphenols, terpenes and alkaloids that have medicinal properties. It is important for the herbalist to take this in account in herbal support.
Energy remedies
Based on the idea that the organs in the human body vibrate, health can sometimes be improved by using resonance to restore organ function.
Colour and magnetic therapies
This is the practical application of energy medicine making use of colour and special magnets.
Nutrition for healthy lifestyle
Food is better medicine than drugs. We are not against the use of pharmaceuticals, but believe that in many instances a healthy body is supported by following a good diet. Nutritional supplementation may also needed when deficiencies occur.
REGISTRATION PROCEDURE
---
Please consult the prospectus for details about short courses obtainable from the Synergetica office. An invoice or payments options (debit order) can be obtained from the Synergetica office. Please e-mail Marike and request a debit order form for easy payment options.
To register for a short course please fill in the Synergetica registration form available from the office. You may also contact a student advisor to explain to you what the course content covers. See CONTACT US contact numbers and names of staff members.
CPD TRAINING
---
Please see under CPD TRAINING .
Members of professional bodies are obliged to do annual CPD training.
Synergetica is contracted by the following professional bodies: ASCHP, CCSA and NHA to develop CPD's relevant to counselling and natural health care.